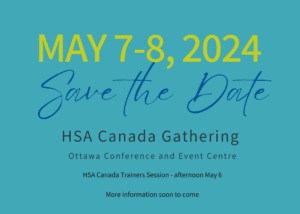 Plans are underway for the next annual HSA Canada Gathering May 7, 8 2024 in Ottawa, ON.
We are excited to be planning an in-person event, it's been so long since we have been together without a screen in front of us. Our theme for this Gathering is "the new face of human services". Many changes have already occurred and there are many more to come. Human services are evolving into a model that celebrates individuality in so many ways.
Some topics to look forward to: Values – how to explore them, live into them intentionally and create values-based approaches in organizations (strategic plans, recruitment, supervision, performance management), Leadership – current best practice in successful leadership, Person-Centred budgets – what this change means for Developmental Services, Self-care and Diversity.
The venue is the Ottawa Conference and Event Centre. We do have a block of rooms at a special rate that we will be releasing soon along with the opening of registration. We are looking for speakers who have knowledge and experience in the above topics that would like to share their practices in a 75 min session, a call for proposals will be shared soon on social media and through our monthly newsletter. We are open to hearing about any topic that aligns with our theme.
Our team will be spending a day together this summer to vision and plan for another great event. We hope you plan to join us.