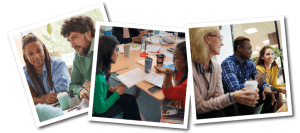 "We may not be "done" with the pandemic, but one thing is clear: We're not returning to the pre-2020 work environment. Employers that demonstrate the willingness to innovate and experiment with new approaches to traditional work practices will emerge stronger."
                       -Mary Beth Lepkowsky
Will you be a leader that ties us to the old or guides us to the new?
A lot has been written about the challenges of the post-2020 workplace.  Among the top concerns leaders face are:
Leading a hybrid workforce
Workers want to decide when, where, and how they work. The people who rely on your services want to decide when, where, and how they receive support. How do we make this work?
The Gallup Organization describes today's workforce as a mix of Splitters and Blenders
Splitters might work best at home or in the office but want to maintain a strict schedule of hours in each location. Blenders might get work done on a weekend or evening or early in the morning before the office opens.
The same can be true of how people with intellectual, developmental, and other disabilities want to receive support. Both are valuable and can be engaging and productive. But imagine leading a team where team members don't know who's who!
That's where person-centered approaches come into play.  Learning what matters most to colleagues and supporters will help tremendously in creating a team culture in which everyone can thrive.
And self-management practices, or practices that help to build trust and autonomy in teams, will give you tools to sustain the work of the team efficiently and effectively
Lack of professional development
Employees list a lack of career development as one of the primary reasons for leaving their jobs.
When all else is equal, they will seek to work in organizations that support their personal and professional growth and career aspirations. This is a critical time to invest in your workforce.  Develop the whole person and give employees reasons to want to stay. Help them feel seen, heard, valued, and appreciated with training, coaching, and opportunities to try out new skills and new roles.
High turnover
Keeping up with hiring can be daunting. Values-based recruitment and onboarding can help you find people who are aligned with the values and practices of your organization.  Having a planful values-based approach to how people are introduced to the organization and welcomed to their team will save precious resources and build a stronger team.
H S A wants to help
We recognize that limited funding and rapid change make it difficult to create a sustainable professional development program for experienced and aspiring leaders.
H S A wants to partner with a group of forward-thinking organizations that are purpose-driven and share a desire to develop their workforce.  H S A offers more than 40 years of experience in leadership and team development, coupled with international expertise in person-centered approaches in organizations and certified expert consultants in change management and self-managing organizations. We invite you to co-produce a professional development program that will help meet your workforce leadership development needs.
Please join us for a friendly and engaging Leadership Listening Session on February 8, from 9 am to 10:30 am PST, to share ideas about what is needed and what might be possible. We believe that if we align our ideas, our strengths, and our resources, we can co-create a professional development program that will provide excellent and affordable support for experienced and aspiring leaders.
We hope to see you on February 8.
Come alone or with others from your organization. We look forward to the conversation and invite you to RSVP here.
Want to learn more about H S A's current leadership offerings?
In 2023 we'll be introducing a variety of short webinars to introduce new ways of working in our Teams and Leaders series.  We'll look at Self-Awareness, Values Based Recruitment, Generative Decision Making, Coaching and Confirmation Practices as an alternative to traditional performance reviews, Compassion at Work, Positive and Productive Tactical Meetings, and more.  All with the desire to introduce organizations to practices that align with the needs of an evolving workforce.
Be sure to join our email list to be notified of our Teams and Leaders Series.