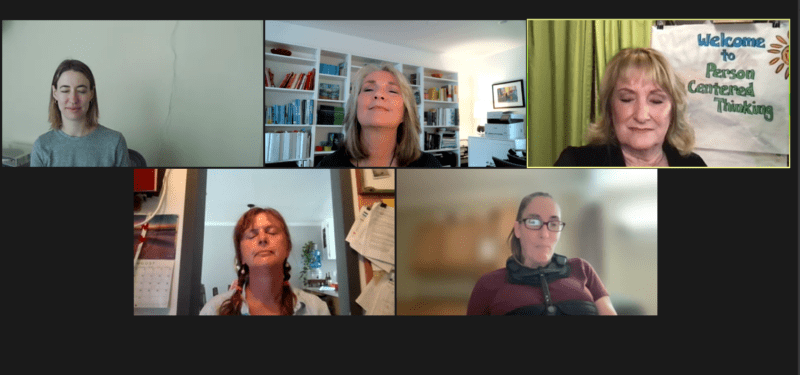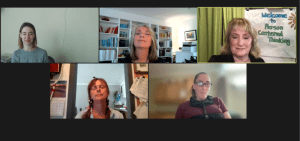 Wherever you are located, settle in. Settle into this space we are creating together. Togetherness via zoom and other wonders of technology.
YOU are welcome here.
As you settle in, check in with yourself. Take a deep breath in. As you exhale, notice your body. Do you feel at home in your own skin this morning, or unwelcome? Are your muscles refreshed after a night's rest, alert after a morning walk or are they dragging you around longing for more sleep? Are certain areas of your body clenching and unclenching carrying your stress, or off in a tangle of spasms? Does arthritis catch your breath when you move or steal your attention when you want to focus? B-R-E-A-T-H-E … acknowledging the areas of your body that most need soothing care.
Regardless of whether your body bounced you hear or needed behind the scenes teams of effort to get you here, take a moment and say thank you. Thank your body for being here with you and for being part of the expression that makes you wonderfully, uniquely you. You are wanted, welcome and needed here, as is. Nothing more … nothing less. There is nothing LESS about you.
There is purpose for your presence here today. What might that be, above, beyond and outside the original reasons you decided to participate? Today is a day to reconnect, sharing our experiences, our learnings and our visions with each other. The best way to do this is to connect with ourselves first.
Imagine the word reconnect embossed on an invitation, created specially with you in mind. It's your invitation to enter into each meeting or interaction today with anticipation.  Open up to learning something new, hearing concepts you've heard before in a new way, being surprised by the unexpected and laughing when details fall into line in their own way rather than how you planned for them to.
We are all here, we are all human, people with a passion for living full lives and helping others, whatever the roadblocks may be, do the same. Our humanness is our point of connection. See how many ways you can offer and experience connection today. Perhaps it will be in a smile behind your eyes when you meet someone new, speaking up when you usually don't or noticing how many ingenious ways there are to get things done when we work together that are impossible to do alone.
Connection makes collaboration and creation possible. It's often the smallest of connections that have the greatest impact in making positive changes.