Helen Sanderson Publications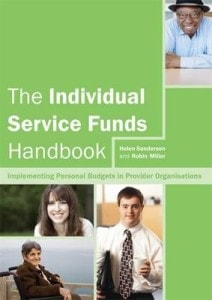 The Individual Service Funds Handbook: Implementing Personal Budgets in Provider Organisations (2014) By Helen Sanderson and Robin Miller, Jessica Kingsley Publications. 
The Individual Service Funds Handbook is the definitive guide to one of the most innovative forms of personal budget in health and social care.
It gives a clear explanation of what Individual Service Funds (ISFs) are and how to use them effectively, and includes all the information you need in order to implement them in your organisation. The Handbook spans a range of settings, including a dementia care home, supported living and residential homes for adults with learning disabilities, and people who use mental health services. It also sets out guidelines and templates which can be used when implementing ISFs, addressing key practical concerns, including: how to put together effective support plans, how to ensure that ISFs are delivered in a person-centred way, how to overcome organisational complexities in implementation, and supporting managers.
A one-stop resource for anyone wanting to understand the potential of ISFs, the Handbook is required reading for service providers, commissioners, and those engaged in person-centred practice and personalisation, including user-led organisations.